With the rapidly changing nature of the COVID-19 outbreak, information and advice from Government can change quickly. For all the latest Government information on COVID-19 and the measures the Government, and Devolved Governments, are taking, please visit the UK Government
website
, the Scottish Government
website
, the Welsh Government
website
or the Northern Irish Government
website
.
Latest News
14 August
Applications for the second grant of the Self-Employment Income Support Scheme open on 17 August. Guidance is available on the GOV.UK website along with a video explaining how the scheme works.
11 August
Face coverings are now mandatory in certain indoor public spaces in addition to retail premises in Scotland, such as takeaways, banks and estate agents. Full details and list of businesses can be found here.
10 August
From the 10th August wearing a face covering in indoor settings such as shops and shopping centres is now mandatory in Northern Ireland. Further information can be found here.
5 August
The First Minister announced that the Scottish Government is implementing a limited local lockdown in Aberdeen. Businesses impacted can find more information on both the Scottish Government and Aberdeen City Council websites.
Areas with local restrictions
The following areas currently have additional restrictions in place:
England
Scotland
Refer to the guidance given by Government if your business is located in these areas.
Our guide covers the steps you can take to prepare for a local lockdown. We explain the steps you can take to respond to local restrictions, where you can find reliable information, and how to create a public relations plan.
When can my business reopen?
With lockdown easing, many businesses across the UK are beginning to reopen. We've provided an overview of the changes to expect across the UK over the coming weeks, including expected timelines for businesses reopening and which businesses can and can't reopen currently.
Each part of the UK is following a different timeline for reopening. Reopening dates may be subject to reviews and relevant criteria being met. Businesses that are reopening should carry out a risk assessment to ensure they are COVID-19 secure.
This information will be regularly reviewed.
Reopening your business safely
As more businesses begin to reopen the trading landscape looks very different. The government has published eight separate guides covering eight different types of work environments. These guides set out the steps employers can put in place for meeting their health & safety obligations in the workplace during the coronavirus pandemic. These guides can be seen and downloaded via the GOV.UK website. There is separate guidance for Northern Ireland, Wales and Scotland, if your business is located in these nations you should ensure you comply with your national guidelines.
Key guides
---
Free downloads
Read and download our practical guide containing useful resources and where you can go if you need more help.
Printable signs and social media cards to let your customers know that you are open for business.  
Let customers know your business is COVID-19 secure and help keep everyone on your premises safe with our printable A4 signage pack.
Managing your staff during COVID-19
As small businesses transition back to work, our new normal brings new ways of doing business. We answer your questions about managing your employees after furlough, supporting employee wellbeing and staying safe in the workplace.
Key resources
Losing employees is difficult for any small business. Our guide walks you through the redundancy process and how you can ensure it's carried out in a compassionate, legal way.
Shops are beginning to open, or considering opening. We look at how to recall your staff from furlough leave.
With lockdown easing, many businesses across the UK are beginning to reopen. We answer your questions about managing your employees, looking after their wellbeing and managing health and safety in the workplace.
What if I can't reopen yet?
We're here to support you every step of the way. If your business can't yet open due to restrictions, our financial guides explain what national grants and schemes are available to small businesses and the self-employed across the UK to support them during this period. In addition to national funding there are also sources of local funding and support which can be accessed via local councils.
FSB members can also log into their dashboard to find details of local FSB contacts and online events offering help and support across the UK.
Download the PDF guide for your home nation to get started.
Key resources
Learn how your business can prepare for the next phase of the COVID-19 response, win customer trust and build back sales.
From 1 July 2020 the furlough scheme is changing, find out how with our guide.
Losing employees is difficult for any small business. Our guide walks you through the redundancy process and how you can ensure it's carried out in a compassionate, legal way.
Health and wellbeing: Boosting productivity and resilience in your business
The current pandemic has forced many small businesses to focus on business survival above anything else. Wellbeing may not seem like an important topic at the moment but being actively engaged in improving the health and wellbeing of your staff can help you build a strong, resilient workforce ready to face the challenges of the current climate.
Sources: Sport England covid-19 Physical activity tracker | Government press briefing 15th April | The Lancet, July 2016 – physical activity series | Fitter bodies, fitter economies – Vitality and RAND, 2019. | Sport England Active Lives Adult Survey November 2018/19 Report, published April 2020 | Wellness in the workplace: Unlocking Future Performance – CBRE – occupier survey 2015 –2016
Key resources
Squeeze some activity into your daily commute with our guide.
Download our guide to building activity into your working day.
Moving meetings held via phone allow you to catch up while talking a walk
Looking after your mental health
During the coronavirus pandemic many people are struggling with their mental health. Small business owners are under pressure to find ways to pivot to new ways of working while others deal with isolation and worries over health of loved ones. We've collated resources to guide you to support and help available across the internet explore more below or visit our list of resources which can help here.
Key resources
As we slowly start return to work, looking after the wellbeing and safety of your employees will be essential. Learn how you can best support your team.
Resource to help support the mental health of yourself and others during the COVID-19 pandemic
Mike Cherry is this week's guest on Just About Coping is a podcast hosted by Simon Blake OBE
Friday, 14 August 2020
All this week's small business news in one handy newsletter. Sign up below so you never miss any updates 👇🏾📰fsb.org.uk/resources-page…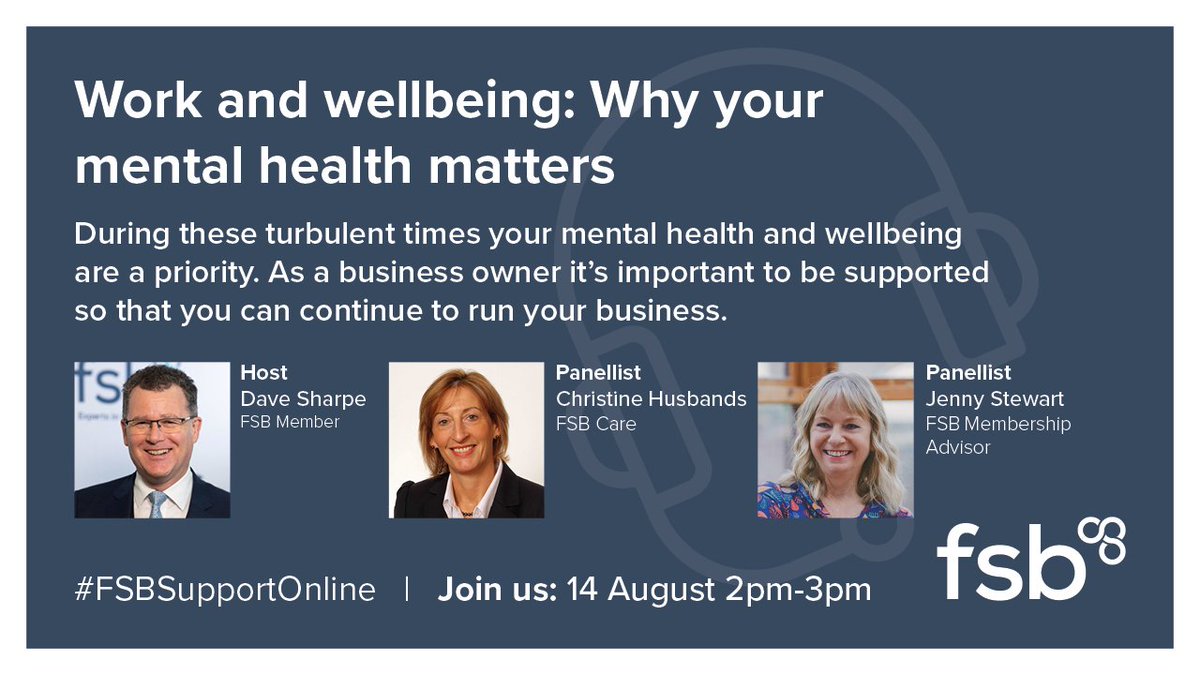 Friday, 14 August 2020
During these turbulent times your mental health and wellbeing are a priority. Join us at 2pm for a webinar on work and wellbeing: bit.ly/30SP6CX #FSBSupportOnline 👩🏽‍💻
Friday, 14 August 2020
RT @FSBInsService: This #Stonehaven-based business was unable to get cover for #floods, as it was located in a 'high-risk' area. We helped…
Supporting Small Businesses since 1974
Together, we're stronger 🤝
See how FSB can help your business
Show me how
You may also be interested in